I had a friend several years ago who was an artist, who became absolutely captivated by tornadoes after we saw one once, and lived to tell the tale.
I am supposed to be writing about horse hoof stresses in this post.  I've sat here quite a while today, typing variations of the lead sentence: "There are several factors that influence the stress on a horse's foot."  And it just won't go anywhere, because it's "the artist and the tornado story" that wants to come out today. You'll see why by the end of the post. Trust me.
The artist and I stood literally shoulder to shoulder for what felt like a week, mesmerized, watching the clouds spin down beneath the central updraft, coalesce into a funnel, fall apart, and pour upward back into the core like an inverted waterfall, over and over again.  It wasn't a very big tornado.  That was probably a good thing.  (Don't try this at home, adult supervision only, your mileage may vary, etc.)  I have to admit, it was an astonishing thing to see.  As far as I know, the artist never quite got over it.

Every time I talk to people about horse biomechanics, something comes up in our conversation that makes me think about form and function . . . and the enormous problem people have with remembering that the "function" part matters.  A lot.  The artist brought this aspect of peoples' thinking home to me real fast that day, maybe the first time I'd ever realized how separated form and function can be if people aren't used to thinking about it.  Because after the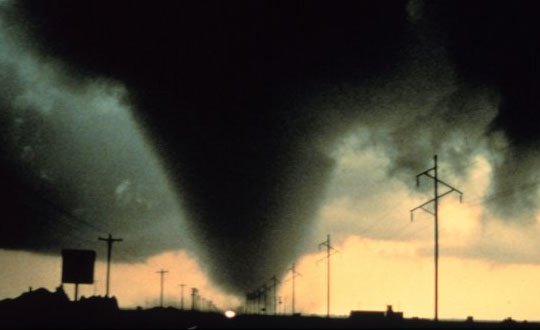 funnel was carried away on the moving squall line, and the storm had rained itself out over the tops of our pointed little heads (we were lucky not to have been pulverized as well as mesmerized), the artist turned to me with rivulets streaming out of her soaking hair and running down her forehead, and asked, "Why is a tornado shaped like a triangle?"
She was thinking about the shape shown in the NOAA photo to the left.  It's a common enough shape for a tornado, but it's certainly not "standard".  Here are more NOAA images to give you an idea of the range of variation.

The thing that really threw me about the artist's question was that the tornado we'd been watching as it tried to form and kept falling apart never looked like any of these pictures, though.  It looked a lot more like the still image below from video of a rotating wall cloud near Terre Haute, Indiana in 2007.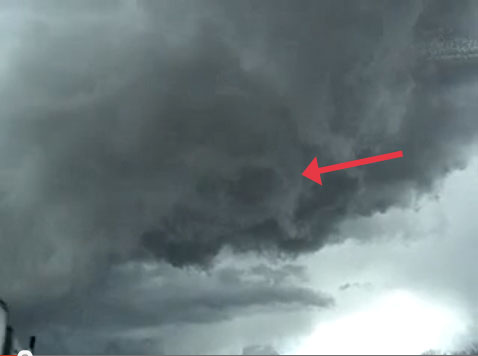 The red arrow points to a dark circular structure with a fairly narrow, paler rim of clouds that can be seen, in the video, to be rotating slowly with the entire cloud immediately surrounding it.  (It is, in fact, an example of the infamous "rotating wall cloud" of severe weather alerts.)  This is where a tornado funnel can form.  It was a structure like this that we saw forming "sides" several times before falling apart and "pouring" over its own lip and up into the clouds again, a number of times in succession.
In other words, the image we actually saw, the artist and I, was one of circular rotation.  Furthermore, it was absolutely clear as crystal to both of us that within the "funnel-to-be" that kept forming and falling apart, the overall direction of movement was up.  And that is how tornadoes work, really.  They are a vortex, having a spiralling motion that goes from the ground up into the clouds, spinning as it goes.  It is the spinning winds of the vortex that create the distinctive "tornado vortex" signature on radar that identifies a tornado's likely existence even at night when it can't be seen by weather spotters.  Because the tornado is spinning in a circle that's parallel to the ground, Doppler radar shows winds on one side of the funnel as going away from the station, and winds on the other side of the funnel as coming towards the station.  Since the radar creates different-color images for winds blowing away and winds blowing towards, there are two different direction-colors of wind smack next to each other on the radar.  That's the vortex signature, and it's created by the rotating circle of wind.
Interestingly, about five years before the artist and I encountered the nascent tornado I've described, I had spent several long months putting information about things like "tornado vortex signatures" onto a series of educational pages for the non-profit I worked for, using tornadoes to explain the power of intergrating different ways of knowing, learning about, and responding to the natural world.  The artist knew that I had spent hours going over reference materials, talking to experts at NOAA and the NSSL, and writing everything up because she had proof-read and edited every one of those pages for me at the time.
So although I understood why she figured I would have at least a semi-reasonable answer to her question, "Why is a tornado shaped like a triangle," at the same time I was stunned.  Because not only had she read, in detail, about how tornadoes function, she had just seen it with her own eyes:  rotation and updraft, both.  Yet somehow she had fastened onto a stereotypical shape she'd seen somewhere, a form — one she certainly hadn't gotten from the clouds that were still trailing over our heads that afternoon — as the "meaningful" shape of a tornado.  And the evidence that she saw the triangle form as meaningful is that she asked WHY the tornado was that shape.
The question "why" only has meaning if a person wants to know the connection between a form and its cause.  And the "cause" or "reason" for form is almost always function.
If you look at the line of pictures above, again, you will see that understanding how tornadoes work, functionally — that they are a rotating vortex — makes sense of the wide variety of forms shown there.  Sometimes the clouds are way up high above the ground and the rotation's diameter is narrow, so the tornado's form is that of a long rope.  Sometimes the rotation's diameter is so large that a tornado is wider than it is tall, and the form is then like a wedge that blots out much of the sky at the horizon.  When the clouds above blow along faster than the base of the thing moves, the tornado leans sideways, the part on the ground trailing the part at the cloud.  When condensation doesn't happen around the vortex, you see debris flying around in a circle but not much else — sort of an "invisible" tornado.  And, of course, if the clouds and the ground are at a particular distance apart, and the diameter of the rotational part in the cloud is a certain proportional size, and the debris field around the base on the ground isn't very big, and if you happen to be standing in just the right place with a certain point of view — then the tornado looks like a triangle.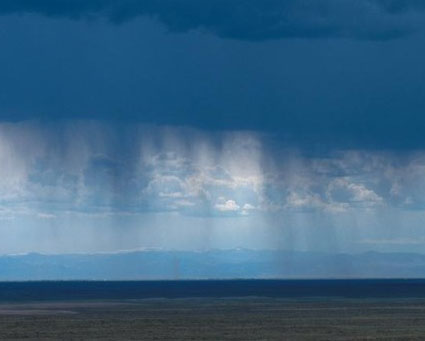 A cloud that happened to hang down, maybe like a rain virga, and was shaped like a triangle, that did not rotate and did not have updraft in the center of it, would not be a tornado.  It would not cause damage.  It wouldn't be dangerous.  It might be an interesting phenomenon, but it would not be a tornado.  The form of a tornado is a product of its function.  Details of the specific situation, such as how high the clouds are and how wide the rotation diameter is, create variation in the form.  But a tornado is a function-based phenomenon.  Even the very oddest-looking tornadoes in the line of photos above is still a tornado because it functions as one.
The bottom line of form — the thing that produces form — is function.
So what does this have to do with horse biomechanics?  Remember, I said at the outset of this post that sometimes it's hard for me to realize how far form and function are divorced from each other in people's awareness.  I have the artist and the tornado to thank for bringing this to my attention the first time.  But now that I'm working to help people understand horse biomechanics, I discover that the separation of form from function in people's minds is extremely common. And so is the focus on form, all by itself.
If meteorologists thought that tornadoes really were triangles, if they did not understand that how tornadoes function is the most important thing to understand, that form is merely an outward manifestation — almost a side-effect — of this critically significant function, we would not have radar warnings to tell us to take shelter.  The ONLY way people could know a tornado was in the area would be if a spotter happened to see it and see it from exactly the right "triangle" vantage point.  It is understanding tornado function that allows us to predict them, to identify them on radar, and to design special structural elements that help keep buildings from flying apart in rotating tornadic winds.
Horses have anatomical systems of bone, muscle, connective tissue, and nerves that function, together, in a range of very specific ways.  Certain patterns of horse anatomical function produce forms that we recognize, just as certain functional patterns of wind rotation produce the recognizable form of a tornado.  The parts of a horse's body are connected to each other in complex ways.  When certain nerves fire, they cause certain muscles to contract, which causes specific movement of certain parts of the skeleton.  The end result of this chain of causes may be that the horse's head rises from a neutral position.  If so, this is a side-effect of the entire functional chain.  The raising of the head is a result, not a cause.
Yet, what I have learned is that many horse people see that a horse someone has identified as being collected has an elevated head — and conclude that this form of "elevated head" is the cause of collection, that it is the actual functional mechanism of collection.  They therefore pull on the reins and on a horse's mouth to raise its head and "pull it into a frame", thinking this will functionally produce collection.  But functionally, it can't.  Bodies don't work that way.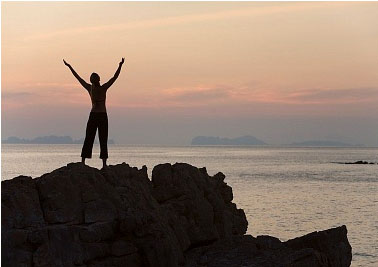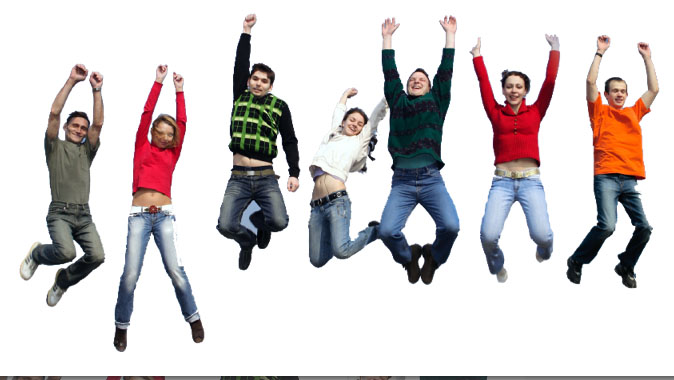 Human beings tend to put their arms up and out when they leap into the air.  But you can't "make" a person jump by having them raise their arms.  It doesn't "go that direction", functionally.  If humans were trained to jump by aliens (E.T.s) who did not understand the functional mechanisms of jumping, by aliens who focused instead solely on the one aspect of form "arms raised", then these aliens would try to train humans to jump by lifting their arms over their heads with ropes and pulleys.  Presumably the aliens would be frustrated and irate when no one jumped as a result.
It is a trainer's responsibility to learn what the anatomical functions are, that produce particular forms such as collection.  This is absolutely what the great trainers of the last few centuries have done.  They may quibble about the details (scientists do too!), but they understand very well that form is not a cause but a result.  If a rider trains her or his own horse, then they have just picked up the trainer's level of responsibility in this matter, whether they know it or not.  And because the responsibility exists, so does the power to harm a horse that is forced to move in a way that produces only a meaningless form, on the assumption that the rest of a functional sequence will somehow follow even though the real cause-and-effect line flows the opposite direction.
Given that bones and muscles are largely hidden by the horse's skin, how is a rider or trainer to understand the functional mechanisms that produce the forms they desire in their horses?  There are plenty of books and articles on horse functional anatomy and biomechanics available, and this blog and my seminars are two small contributions to that field of knowledge. But any time you read one of those that tells you to focus on FORM as the most important part of anything, as the part that produces function . . . stop and ask yourself our riddle:  "When is a horse like a tornado?"  Because right at that moment you will have encountered the answer:  "A horse and a tornado are alike when the person thinking about them focuses on FORM rather than FUNCTION."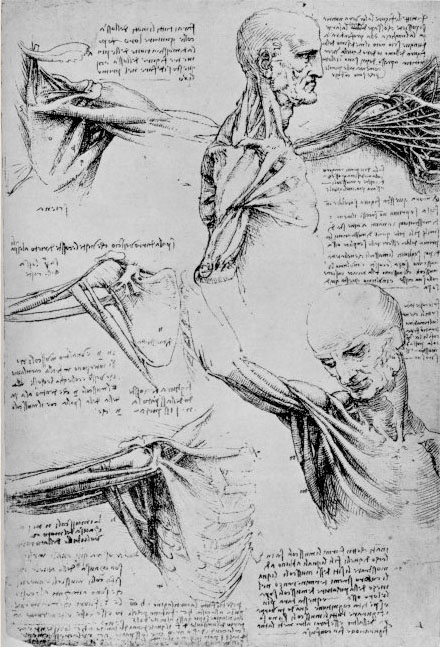 By the way, it turned out the artist had not really registered either the circular rotation or upward movement we had witnessed.  Instead, while watching the spectacle, spellbound, she had reflected on the photographs of tornadoes she had seen.  This is what prompted her question.  When I pointed out the functional aspects of tornado shapes, she explained that it didn't matter at all to her because, as an artist, she only cared about representing images of tornadoes on paper or canvas — not creating functional ones.  I strongly suspect that most horsepeople, to the contrary, do want a functional horse rather than 2-dimensional representations of one.  So although horses and tornadoes may be alike when people think about them the same form-based way, the people who do the thinking — horsepeople and artists — may be rather different.
Although Leonardo da Vinci might disagree with that. . .
(At left, a page from one of da Vinci's notebooks, detailing one of his studies of dissected arm and shoulder structures.  Other Renaissance artists also carried out dissections, which they carefully drew, realizing that they had to understand the function of human bodies in order to render their forms realistically.)