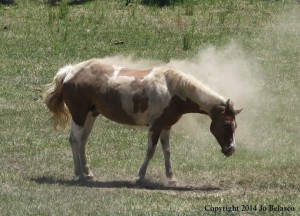 With New Years Day having just arrived, many people are making resolutions and plans for 2014.  Resolutions and plans such as "I will ride more often this year," or " I will be able to do a flying lead change by the end of the year," abound.  Most people are probably experiencing the same emotions they did last year at this time, when they realized that they hadn't kept their resolutions or reached their goals from the previous year.  As we make resolutions and plans anew, we tend to berate ourselves for resolutions we didn't keep last year, plans unfulfilled.  We feel guilt over these situations, but, as we have probably done for more years than we care to remember, we gamely go at it again once January 1 rolls around.
There is another way to look at making resolutions and plans, and it's something you can use in many facets of your life, including the things you do with horses.  It's what I call "plan lightly."  When we work with our horses, we strive to be as light with them as possible.  We have feel of our horse, but we do not yank on the horse or pull or have tight contact.  We have just enough feel for communication but not so much that we are tightly grasping our horse in any way.
We may have in our minds that we are going to go and do something specific with our horse today.  Perhaps it's the day we've planned that our horse will take that right-lead canter from the walk, with no trot stops in between gaits.  If we have been working on that for weeks or months, we may have really built ourselves up to this being the day it happens.  But what if it doesn't?  If we build a goal up so that it must happen by or at a certain time, then if it doesn't, we suffer terribly.  We may blame the horse.  We may blame ourselves.  We may blame both the horse and ourselves.  To stop the blame game, which doesn't help us reach our goal anyway, we need to hold that goal lightly in our minds.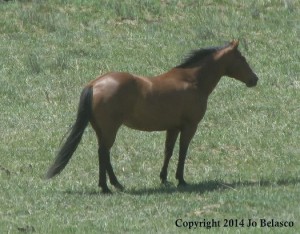 We can hold our resolutions and plans the way we should hold the reins when riding, lightly, with feel. We hold our plan like that, so that we can step towards it but so that we can also move and change as it, or circumstances surrounding it, change.  One of the most important things we can keep in mind is that we do not know what the future holds, and while most of us think that whatever we plan is the best possible thing that could happen and in the time frame we want it to, that may not be true.  As it is unfolding, you may think that your plan isn't working, but in the end, the unexpected things that happen may land you at a place even more spectacular than what you had wanted in the first place.
No matter what your plans for 2014 may be – to move, to change careers, to get that flying lead change, to adopt and gentle that wild Mustang you have always dreamed about – hold that plan lightly.  If you do so, you will find that when 2015 rolls around, you won't beat yourself up about not meeting your goal if isn't exactly how you had planned it.  Rather, you will look back and enjoy the time you spent working toward it, perhaps even marveling in how it changed and became more than you could have imagined when you started.