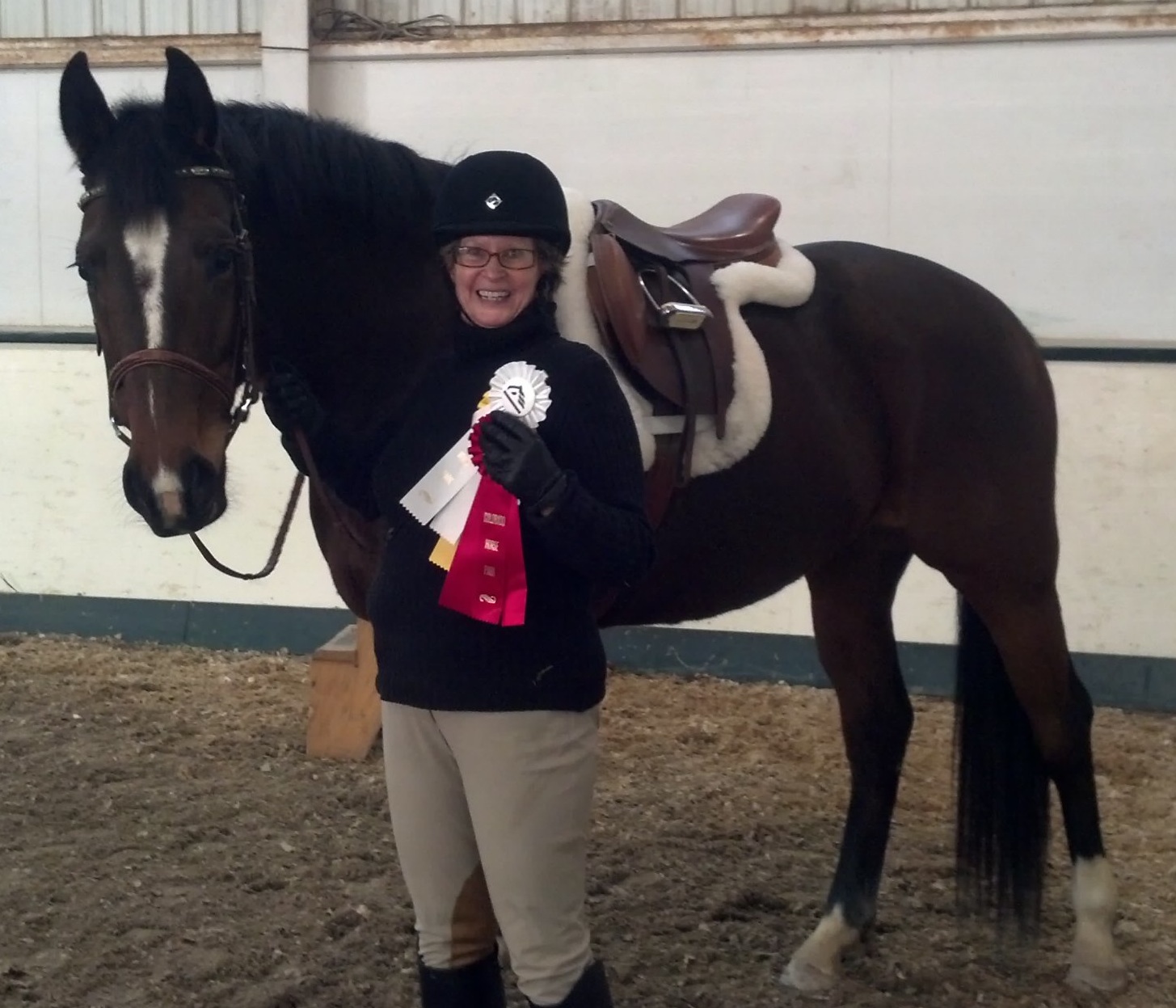 "You don't know what a tremendous inspiration you've been for those of us who love horses and for whatever reason, needed help to get back to what we love. I have never felt safer with a trainer and I have never felt so important to one. You are the only reason I was able to get back on and the only reason I found that wonderful mare. I don't know if I ever told you, but when I stumbled across your Craigslist ad, I cried. I truly thought my riding days were over. You gave them back to me, and I'll be grateful forever that I met you."— Hanora Masdin
Jo begins each clinic with her 60-minute seminar and question-and-answer period.  During the seminar, Jo explains the difference between fear, generalized anxiety, and Post Traumatic Stress Disorder, and how to figure out which applies to the participant's own situation.  She shows participants how to create a toolbox of practical and proven techniques they can use to shrink their fears down to size.  She also shows them how to use mindfulness as a simple but powerful method that increases calmness and confidence.  She gives participants practical exercises that they can do in their own home and also with their own horse.
Jo then proceeds to conduct the clinic portion, which consists of each rider working with Jo for one-hour in a one-on-one format.  During this time, Jo will discuss specific fear issues that the rider has and help her apply the tools she learned during the seminar to those issues.  Auditors and other riders are encouraged to watch the rides during the clinic because additional learning goes on by watching others face similar fear issues.
Jo has a B.A. in Psychology from Boston College and took additional postgraduate training in psychology. She has been working with fearful riders for almost 10 years, specializing in helping riders who have experienced serious horse accidents, those who have simply developed new fear after years of regular riding, and older riders who want to ride again or start riding for the first time but find fear is keeping them from living out their dream.  Jo creates and maintains an environment at her seminars and clinics that is welcoming and non-judgmental.  Clinic participants and private clients are thrilled with the help Jo gives them, and many take private lessons when she returns to clinic in their area.
Clinic riders participate in the one-hour seminar that opens the clinic, and then get one hour of individualized, one-on-one instruction from Jo during the clinic.  Clinic participants are also welcomed to ride on subsequent clinic days if there are clinic slots available.  Jo asks that riders sign up for one slot and then let her know if they want a second slot.  That way, everyone in an area who wants to ride will get a chance.
Participants may also apply for a private riding session (without
observers) at the end of the clinic.  Riders interested in the private option should contact Jo as soon as possible to find out if the facility will be available for that purpose at the clinic in question.  Riders who want to do a semi-private (2 people) or group (3-4 people) lesson should also contact Jo for availability and rates.
Jo conducts single and multi-day clinics, depending on the clinic location and number of riders.  If it's a multi-day clinic, then the first day begins with the seminar, followed by 7 riders.  Each subsequent day is comprised of 8 riders (no seminar).  Jo's schedule sometimes allows her to add an additional day for private lessons for people who have attended her seminar and clinic at some point, whether at that specific time or previously.  While Jo believes that actually riding with her is the best way for fearful riders to learn to use the tools she gives in her seminar, she is available to give just the seminar talk in certain circumstances.
Everyone is welcomed to attend the Ride Without Fear seminar and clinic, even people who aren't fearful. All that's required to attend is a sincere desire to learn the confidence-building techniques Jo teaches and a willingness to suspend any judgment of other riders. This last is essential, because an environment that's non-judgmental permits each person to fully explore their fear issues and get the help they want — so they can have fun with horses again.
Jo is only conducting a limited number of clinics in 2019. Jo lives in northern Colorado and travels around Colorado and other Western states to conduct clinics. If you would like to host or attend a clinic, please contact her.
"Jo, you have such an amazing clinic. When I got on my horse, I was scared and tense. And I thought I was doing good! After working with you for just minutes, I was amazed and thrilled at how you showed me to be in the moment with my horse and how to control my fear. I am grateful! Also, with each of us riders, you seemed to hit on exactly the things we each needed to deal with and overcome and gave us the techniques to do so, even when each of us had different problems. I am amazed. Thank you!!" – Karen Fox, Trail Rider