Well, I wondered how long it would take for someone to say to me, in response to yesterday's post, "Dawn, when is a horse NOT like a tornado?!  Ha ha ha!!"  But I sure didn't think it would be a mere 45 minutes.
Yet I should have known.  Because if the metaphor seems meaningful to you, you're in good company — one that spans more than one culture and at least several hundred years.  In fact, in its largest and most profound form, this very significant metaphor has been around for literally thousands of years.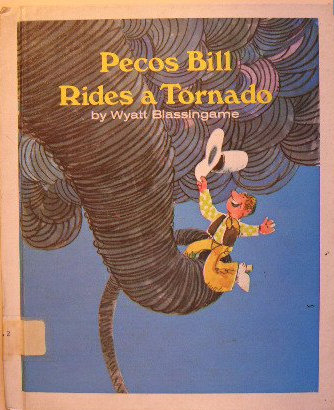 In the American West, the "tall tale" figure Pecos Bill was reputed to have been such an expert "bronc" rider that he rode a tornado into the ground and tamed it enough that it finally disappeared.  Here's the cover of a book by Wyatt Blassingame that tells the story, as one example. You can also read the story at the American Folklore website here.
In 1948, Disney portrayed Pecos Bill's ride in a cartoon about tall tale figures that included Paul Bunyan and his blue ox, Babe.  In the series of still images below, you see Pecos Bill approaching the tornado on horseback, then leaping from his trusty horse to the tornado (the way a cowboy might leap from a trained horse to one wearing only a rope halter), and then riding the tornado long enough to tame it down to a tiny whirlwind.  Clearly the tornado here is behaving like a stereotypical wild, "unbroken" horse and Pecos Bill is using his skills as a rider of such horses to handle the tornado the same way.  In other words:  a tornado is a lot like a horse.

But it's not just Western cowboy culture that links horses and tornadoes.  So do the people of some American Indian nations of the Great Plains.  The emphasis in these stories is very different, however — essentially the opposite of what it is in the Pecos Bill (and Paul Bunyan) "tall tale" type of mythos that emphasizes human domination of nature.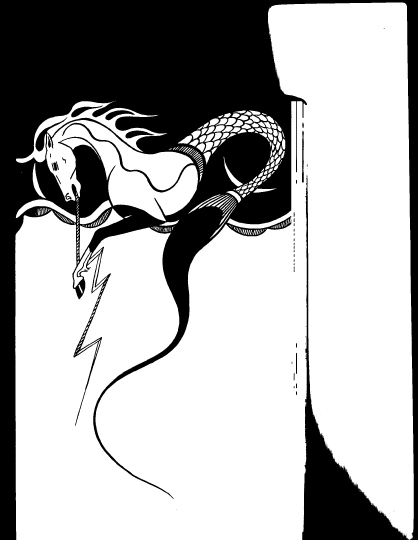 Here's an illustration from the book The Way to Rainy Mountain by Kiowa author N. Scott Momaday, showing a horse as a tornado and a tornado as a horse.  It accompanies his retelling of the Kiowa traditional story of how horses were created — and how they're literally related to tornadoes.  Since it's a sacred story to the Kiowa people, I'll send you to Momaday's book to read it yourself rather than relate it here.  The book is so prominent (Momaday won a Pulitzer Prize for another of his books, House Made of Dawn) that it should be in your local library if you can't purchase a copy.
The fairly well-known book Black Elk Speaks is author John Neihardt's recorded account of the autobiographical narrative told him by Oglala Lakota holy man Black Elk.  The pivotal life vision that Black Elk experienced involved both horses and a magnificently powerful storm that wound up carrying Black Elk into the sky.  He describes essentially riding a tornado during part of the vision, looking down at the ground through the hole in the clouds where the funnel is.  Again, since the vision is a sacred text to the Lakota, I will refer you to the book rather than retell it.  You can, however, read the text online here.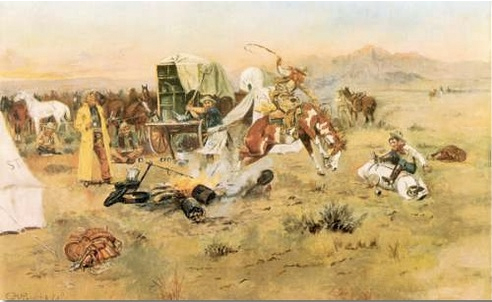 Obviously part of the similarity between horses and tornadoes lies in their whirling motion.  That's undoubtedly a large part of what created the similarity in tall-tale-tellers' minds between tornadoes and the kind of "broncs" Texas cowboys used to ride through cowcamps every morning, trying to "ease them into" the day's work.  There are many written records of these daily contests between determined cowboys and barely half-trained horses, and here's an 1897 painting by Charles Russell depicting it.  But that isn't the whole story.
The larger story, and the one that's immediately apparent in the Kiowa and Lakota narratives, is about the profound physical power of a horse. This power is seen as so immense that it makes horses and storms, both, a kind of double-edged sword:  extremely beneficial but dangerous at the same time.  This duality is quite visible in the Momaday and Black Elk stories, which point out that the storms that bring tornadoes also bring life-giving rain.  Without them, the land suffers drought and dies.  So whereas the final outcome in the Pecos Bill story involves destruction of the tornadic storm (of which even the clouds and rain disappear), in the two Plains tribe stories the outcome is a relationship — one that allows healing rain to be delivered, but the destructive aspects of the storm to be mitigated.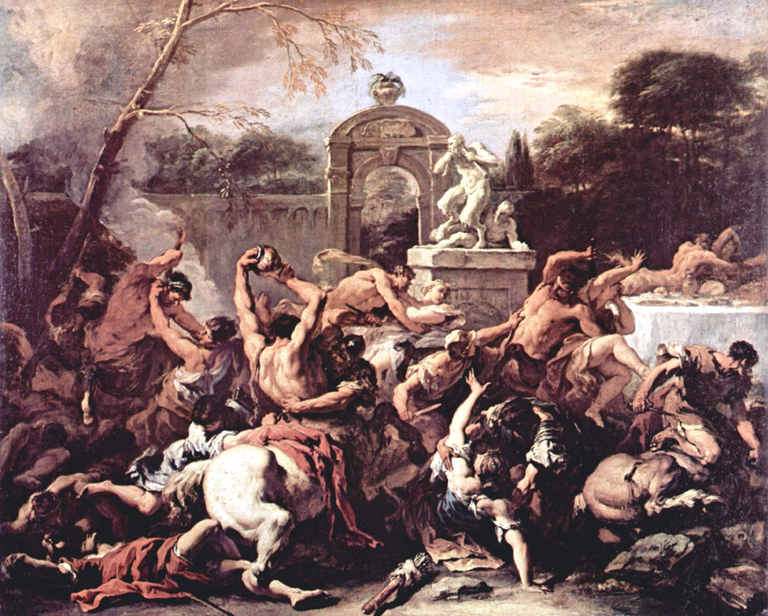 This dual nature of the power in horses has deep roots in Western culture.  The Ancient Greek mythos, starting around 2600 years ago, included stories of beings called Centaurs, which are today envisioned as largely heroic or at least benign creatures with horse bodies and human torsos, arms, and heads.  But it wasn't that way in the original stories.  Originally, Centaurs were bestial and animalistic, prone to drunken orgies and violence.  (The exception was the great Centaur healer and teacher Chiron.)  In one famous story, Centaurs attacked the wedding of Pirithous, the King of a people called the Lapithae, in order to carry off his bride and all the women in the party.  Their intentions were absolutely the worst imaginable, and a tremendous battle ensued which the Centaurs finally lost.  Here's a painting from about 1715 depicting that event by Italian artist Sebastiano Ricci.
The Centaurs here represent the power in horses as being something strong that can be very destructive if humans are not exceedingly careful.  Significantly, by coupling the horse, physically, to men, it links this dual-edged power to human beings as well.  It's both wonderful and enlightening, therefore, to learn the bride's name in this story that represents ancient Greek uneasiness with the animal power of both horses and humans:  "Hippodamia".  It means, in Greek, "Horse Tamer."
Enjoy turning that over in your mind.  There's a lot of food for thought there, and it most definitely impacts the relationships we have, as well as the relationships we assume we "should" have, with horses today in American culture.  That's why I have, at times, taught a Horses & Story seminar.  Integrating different ways of understanding horses really is powerful.