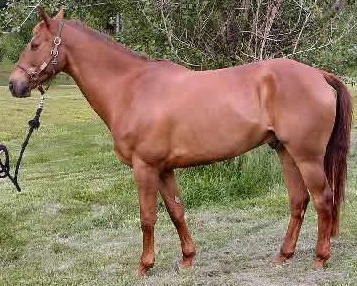 How does a horse who is outstanding in his field carry his weight?  Well, if he's out standing in his field, as opposed to trotting or running, he carries it on all four of his legs (bum-dum-ching).  Here's an example, to the left.  Whatever this horse weighs, gravity is acting on his mass to pull it towards the earth with a calculable force.  That force travels through each of his four feet to the ground.  So a very simple way to begin thinking about force and stress at a horse's hooves is to think about the force caused by gravity pulling on the whole horse's body mass, and then simply dividing this force by four to estimate how much is supported by one of the hooves.
You can try this out for yourself on a bathroom scale.  Stand on it with both feet and see what it says you weigh.  Then balance yourself so you're standing on it with just one foot, the other off the ground somehow.  (Don't balance yourself by touching a hand to the sink or a wall right now, as it will mess up your experience.  You'll do that in a moment for another reason.)  Although you will see your weight wobble a bit on the scale as you move around to get to the one-footed position, in the end you will weigh the same amount.  Only now you can feel that your weight is all being held up by that one leg and foot rather than two.  Your body weight is your body weight, and it is going to push down the same amount on the scale whether it's held up by one leg and foot or two of them.  The difference is how much the leg/foot you're standing on, that's holding you, has to hold.
Now, put a hand on the bathroom sink while you're standing on the scale.  You will see your weight go down.  That's because you are supporting part of your weight through your arm and the sink, so less of your body weight is going through your legs to the floor.  If a horse "leans" towards its front end, more weight goes through its front legs and less through its hind legs, just like you can lean more of your weight on the sink and watch the scales show you less and less weight going through your legs.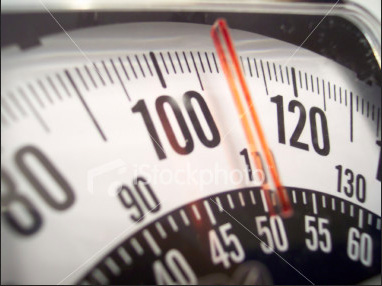 What you probably did not realize is that if you live in the United States and measure your weight in pounds, your bathroom scale does not measure your body's mass, but the force with which your body's mass is pressing down on the scale.  A bathroom scale is a very simple type of machine that measures how much force pushes against it. A spring inside the scale deflects (gets squished) when you step on it and thereby apply force to it.  A rack-and-pinion mechanism inside the scale turns the spring's deflection into the motion of a needle on a dial, so that it points to a certain number of "pounds" depending on how far the spring has been deflected.  So weight, in the US, in pounds is a measure of FORCE. (Also, see the section "spring scales" on this page about weighing scales.)
To explain how this happens, consider the equation for force, F = ma.  F stands for the "force" an object exerts; "m" is the mass of the object; and "a" is that object's acceleration.  So the equation can be written in English, with specific reference to you on a scale, this way:  the force your body exerts against the ground (or the scale) is equal to how much mass your body has, times how quickly your body is accelerating.
At this point, you are liable to say, "Wait a minute.  My body is not accelerating if I'm simply standing on the bathroom scale."  But it is.  The Earth's gravitational attraction is pulling down on your body all the time.  It pulls so hard that if your foot slips on some water as you get off the scale, you'll crash to the tile floor hard enough to regret it. And it pulls so hard that when you hit middle age, various parts of your body start sagging down towards the earth's surface because of gravity's pull on them.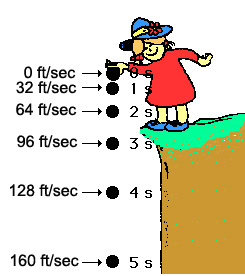 Gravity pulls on things enough to cause them to accelerate if they fall, and anything in freefall accelerates at exactly the same amount:  32 feet per second per second.  That means that with each second that passes, the falling object goes faster than it did before.  The diagram at the left (adapted from one on a UC Berkeley website) shows the position of a falling ball as gravity makes it go faster and faster, or accelerate, in free-fall.  You can see where the ball is at the end of 1 second, 2 seconds, 3 seconds, and so on.  Notice how much farther it goes in the 4th second.  The speed of the ball, or its velocity, is recorded at the left as 32 feet per second at the end of the first second of its fall, and then 160 feet per second at the end of 5 seconds.  You can see, here, what it means to say that gravity accelerates objects by pulling them towards the earth. The ball goes faster and then even faster, second by second, as it falls.
No matter what you drop, the speed of descent is going to be same.  That's what Galileo demonstrated in his famous experiment at the Leaning Tower of Pisa (which may have been just a thought experiment), where he dropped two objects of different masses from the balcony to see when they would hit the ground.  "Common sense" held that the heavier object would fall faster.  But in fact the two objects hit the ground at the same time.  This is because the gravitational constant is simply and only 32 feet per second per second — mass isn't in there at all.  So the mass of the object gravity is pulling on has nothing to do with the speed at which it falls.
However, we all know intuitively that although a bowling ball and a tennis ball dropped from the Leaning Tower of Pisa might hit the ground at the same time, they will not hit the ground with the same force.  We might be willing, if suitably encouraged, to stand where the falling tennis ball could hit us on the head.  We would run like mad to get out of range of the shards of ball and pavement that would fly through the air from the much bigger force of impact with which the bowling ball would hit the ground.  The force with which the tennis ball and the bowling ball hit the ground is described by the equation F = ma.  Mass, m, is a part of Force.  So the bigger the object that the earth's gravity is pulling on, the more force that object applies to the ground.  And this brings us back not only to the force at a horse's foot, but our own bathroom scale.
American bathroom scales already factor in the acceleration due to gravity when we get on the scale.  They do not measure our body's mass.  They measure the FORCE that results from gravity acting upon our body mass.  That is what a pound measures on a bathroom scale in the U.S.
But, as you learned if you stood on the scale on just one foot long enough to do the exercise I described above, force isn't the only thing that matters.  Standing on the bathroom scale on two feet isn't difficult.  Standing for a long time on the bathroom scale on just one foot is.  If you tried this part of the exercise, you might have noticed that you had trouble keeping your balance, that your joints hurt, and that your foot felt more "smashed" by having all your weight (force, remember!) on that one leg.  The difference you felt was in the amount of stress that was in your foot.
In physics, stress is not a measure of how desperate you feel when you've missed a project deadline, have an overdue bill, and your car breaks down all on the same day.  Stress is a measure of how much force is acting on a given area of an object.  Stress, S, is also defined in an equation:  Stress = Force divided by unit area.  In other words, stress is how much force is being transmitted through any given part of an object.  It is stress, not force, that causes structures to fail (if they fail).  The area you measure — and this is important — is at a right angle to the force.  So in your foot, the picture looks something like this: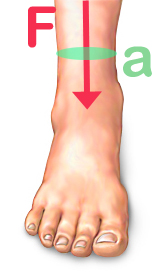 What matters, in measuring the stress in your foot, is how much force is pushing down on it and how large the cross-sectional area is. In the picture on the left, we are looking at how much stress there is in the lower part of the shin area, just above the ankle.  That's where I've drawn a green ellipse that represents the cross-sectional area of the leg right at that point, as if you sliced through it horizontally.  That plane is the one that the body's weight, or force (the red arrow labeled "F"), is acting through.  If the diameter of the person's leg here is 3-1/2 inches (not too uncommon in a woman), then the area of the leg's cross-section there is the area of a circle, pi times the radius squared.  (Do I hear groans as thoughts of geometry flood back?  Hang in there!  We're about to get back to horses, and this will all be worthwhile!)  The radius of this part of the leg is half the diameter, or 1.75 inches, and pi times this radius squared is 9.6 square inches.  So if our woman weighs 130 pounds, the stress this part of her leg is experiencing is 130 pounds divided by 9.6 square inches (because Stress = Force/area).  That's roughly 130/10, which is 13 pounds per square inch.  That is the amount of stress going through this part of the woman's leg in our example.
IF she is standing on one foot.  If she is, all the force of her body (created by gravity acting on her mass) is being supported by one foot.  But if she's standing on TWO feet, then they are sharing the force.  In that case, the stress in this part of the leg — the other one also being on the ground — is half her weight, or 65 pounds, divided by about 10 square inches, for just 6.5 pounds per square inch of stress.  As you can see, stress is twice as high when she stands on one foot as when she stands on both — 13 pounds per square inch compared to only 6.5 pounds per square inch.
Let me pause here and say that if you'd like a reasonably good idea about how much stress this is, measure off a one-inch by one-inch square on a piece of paper.  Look at how big it is. Now think about something that weighs 13 pounds — a medium-sized watermelon, for example.  And imagine balancing the entire weight of that watermelon on that one-inch sized piece of paper.  That's how much stress is on the leg of that 130 pound woman if she stands on one foot.  If she puts the other foot on the ground, the stress is half of that (about large cantaloupe-sized).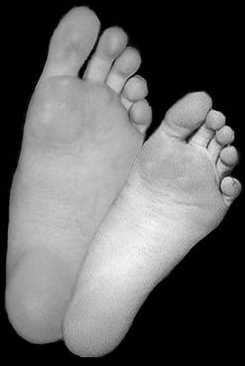 But remember we are heading for a horse's HOOF here, not its leg.  So let's go on down to the part of a human leg and foot that is against the ground:  the sole of the foot.  How much stress is in that part of the body?  The force or body weight is the same:  it's still 130 pounds if the woman is standing on just one foot, and 65 pounds (half of 130) if she's standing on two.  But the surface area of the sole of a foot is a lot bigger than the cross-sectional area of a shin.  Look at the bottom of your own foot, and compare it to an imaginary slice through your shin bone, and you'll see what I mean.
A common estimate for the surface area of the bottom of a woman's foot is about 25 square inches. So our woman who weighs 130 pounds (who is, remember, exerting a FORCE of 130 pounds on her foot) experiences only 130/25 = 5.2 pounds per square inch of stress on the sole of her foot if she's standing on one leg.  And it's half that — 2.6 pounds per square inch of stress — if she puts the other foot on the ground to hold up half the load.
Notice that the stress in the woman's foot is much lower than it is in her shin, even though her weight (or force) is the same, regardless:  she weighs 130 pounds.  But since her shin has a smaller cross-sectional area than does the sole of her foot, the stress is higher there than in her foot:  6.5 pounds per square inch in her shin compared to 2.6 pounds per square inch in her foot (if she is standing on both of her feet).  So now you understand one reason why it's more common to hear of someone breaking their shin bone than breaking a bone in their foot.  The basic stresses in a shin are higher than they are in the foot because the shin is smaller in diameter.
And now we can talk about force and stress in a horse's foot . . . er, hoof.
Let's consider a horse that weighs 1100 pounds.  If this horse is standing at a tie rail and has 4 feet on the ground, each of those four feet carries about 1/4 of his total body weight, or 1100/4 = 275 pounds.
I have to pause here to point out that this means if you want to lift up his hoof to pick it out, and if he doesn't do anything to change the situation, you are going to have to pull up against those 275 pounds to get that hoof off the ground.  That's what he's putting through that leg and foot if he's just standing there eyeing you.  I point this out to remind you that horses are actually fairly cooperative.  Most of them "lean away" when we go to pick up their hoof, and redirect a lot of their weight to the other three legs so we can lift the one we're after.  But a horse that's determined not to pick up a foot can not only brace itself but lean more heavily on the foot the person wants to lift up.  I'm sure you've seen a horse do this.  And when you see that, you're not looking at a force-and-stress problem, but a relationship one.
So, back to force and stress.  We have a horse hoof with 275 pounds of force going through it.  The amount of stress on the hoof is going to be this amount of force (275 pounds) divided by the area of the hoof. This means we need to estimate the area of the bottom of a horse's hoof, that's against the ground.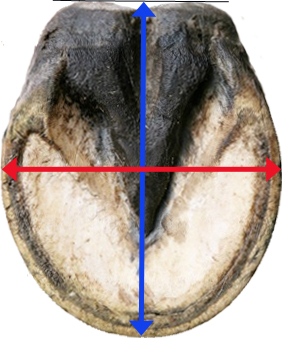 The Davis Boot company makes standard sizes of boots for horse hooves to soak in, and they provide the boot dimensions on their website.  They say that "size 2" is for average horses but that the boots are intended to go over a bare (unshod) hoof and to fit loosely enough for soaking solutions to be added.  So we'll select the boot that's one size smaller, the size 1, to represent the dimensions of our 1100 pound horse's foot.  That boot's dimensions are 5-1/4 inches wide by 5-5/8 inches long.  Notice that the boot is not perfectly round, but longer than it is wide. This reflects the shape of horse hooves, as you can see on the right.
Since the shape of a hoof is not a circle, we are going to average the two measurements (5-1/4 inches by 5-5/8 inches averages to 5.35 inches) to approximate a circle of roughly the same size. The radius (half the diameter) is therefore about 2.7 inches.  We can now calculate the surface area using the standard "area of a circle equals pi times the radius squared" equation.  Multiplying this out gives us a figure of about 23 square inches for the bottom surface of this hoof that is against the ground.
And now we can calculate the stress there.  We have a hoof with 275 pounds of force going through it, and its area is 23 square inches.  So the hoof is experiencing 275/23 = 11.9 pounds per square inch of stress. . . if all four feet are equally on the ground and the horse is not moving.  That's quite a bit more than the 2.6 pounds per square inch of stress that we calculated in a 130 pound woman's foot if she's standing with both feet on the ground.  Notice why:  the surface area of a hoof (23 square inches) is about the same as the surface area of the sole of a woman's foot (25 square inches).  Horses are carrying much more weight, and experiencing much greater forces, through feet that have about the same amount of surface area in contact with the ground that our feet do. Granted, horses have four feet instead of two to carry the load, but they also weigh a great deal more — even proportionally.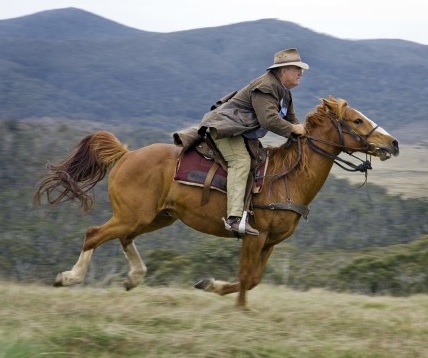 However, there is obviously far more to the story of stress in horse hooves than this. Horses don't simply stand still at tie rails, and they often have only one or two feet on the ground at a given moment.  Now that we have gone through this set of calculations, though, we can take things to the next step (pardon the pun!).
More coming up in Part 2!