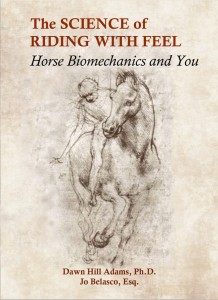 Most riders echo the sentiment expressed by this high-level professional dressage trainer, who said, "As a riding teacher, trainer and student of 'the horse' I've searched high and low to understand how to make the horses job easier for them and applicable for my students. Various training methods suggest 'putting the horses' head low', while other say to bring it up. Some suggest to flex the neck left and right and yet others tell you to just ride the horse 'forward and straight'. How is a teacher or student to know what is really the right answer?"  "The Science of Riding with Feel:  Horse Biomechanics and You," written and illustrated by scientist Dawn Hill Adams, Ph.D. and horsewoman Jo Belasco, Esq. of Understanding the Horse, LLC, provides equestrians of all levels and disciplines with the knowledge to answer these and other pressing questions about the movement of the horse and rider.
"'The Science of Riding with Feel:  Horse Biomechanics and You,' came about because participants at our biomechanics seminars asked for it," explains Adams.  "People who love horses and want the best for them attended our clinics and seminars to learn how to help their horses move better.  They told us the information on biomechanics that is out there either didn't seem to address the kind of riding they did or was too complicated for them to apply to their riding."  Belasco continues, "A lot of people don't work with an instructor on a regular basis, so they have to rely on resources such as magazine articles, books and DVDs.  We wanted to give every rider, as well as trainers and instructors, a resource that contained helpful information in a way that they could use on their own with their horse.  I think we are doing that with this book, and also with the accompanying Workbook and videos that we will be putting on the companion website."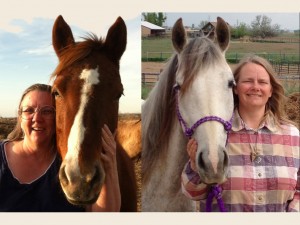 Adams and Belasco have been collaborating on practical applied horse biomechanics since 2005, working together to help people and their horses have a better experience. They've been collaborating on public education projects since 1999, first in the non-profit organization Tapestry Institute and more recently in Understanding the Horse, LLC. Dawn is a professional scientist in biomechanics with a doctorate from UC Berkeley, and she is also a scientific illustrator who is preparing all the book's original illustrations. Jo is a professional clinician and trainer with a wide range of experiences — in different kinds of riding, with a variety of people, in a number of different types of learning venues including lessons, seminars, clinics, and Expos, using more than one cultural approach to horses and horsemanship.
This book is for the horse community, all parts of it, which means horsepeople get to participate in making it the book they need and want.  Adams and Belasco have launched a Kickstarter campaign to finance necessary material for the illustrations and photographs in the book and Workbook.  The project became a Kickstarter Staff Pick within only a few hours of its launch.  For as little as $1, supporters can vote on the breeds of horses and styles of riding and driving they want to see included in the book's illustrations.  Supporters can receive an autographed advance copy of the book and even combine the book with a series of horse biomechanics video tutorials at different support levels.  At higher levels of support, horsepeople may suggest questions to be answered or additional topics to be addressed in the book during a Skype biomechanics seminar.  A more limited number of supporters and their horses will receive a private session with Adams and Belasco, during which they will learn biomechanics' exercises, as well as have photographs taken of them and their horse to be included as examples in the book and accompanying Workbook.
To learn more about the book and to participate in the Kickstarter campaign, visit  https://www.kickstarter.com/projects/103149890/the-science-of-riding-with-feel  or email Jo Belasco, Esq. directly at jo@understandingthehorse.com .  You can learn more about the book by visiting its website.