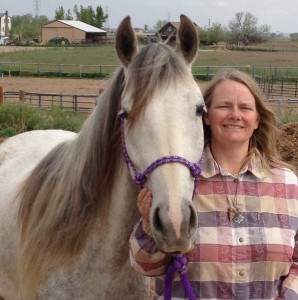 I have been involved with horses since I was a child, and enjoyed trail riding and participating in Fitting and Showmanship, Western, and Bareback 4-H classes in the Southern Tier of New York. I began riding dressage in high school then took a break from horses while I attended Boston College, where I earned a Bachelor of Arts degree (magna cum laude) in Psychology, and a Juris Doctor degree at Suffolk University Law School.  I began riding again after practicing law with the Boston Police Department for several years.  I trained in dressage for five years, 1996-2001, with Adrienne Iorio, who has competed through the International 4-Star level in Eventing, is an ICP level 2 instructor, and is a graduate B in Pony Club, at Apple Knoll Farm Equestrian Center in Millis, Massachusetts, and Kirkwood, PA, and winter training at Frog Hollow Farm, in Aiken, SC.  I left the BPD after five years to become Editor-in-Chief of Law Enforcement Publications for Quinlan Publishing in Boston.  I continued my psychology education by receiving private training in criminal profiling when no formal courses were yet available.
I relocated to Texas in 2001 to work for my nonprofit Tapestry Institute, founded by Dawn Adams, Ph.D. Tapestry Institute uses different ways of knowing and learning to reconnect people with the natural world. I founded and direct Tapestry's Horse-Human Relationship Program. My work in connection with that program has allowed me to study the impact of trail riding on the group meeting process, gentle and work with wild and rescue Mustangs, create and manage the Mustang Freedom Project (that integrated Mustangs into public education workshops for women) funded by actor and activist Pierce Brosnan and author Dean Koontz, and conduct extensive research on the horse-human relationship. From 2001 to 2007, I also participated in numerous informal meetings with Native American horsemen and women in which the nature of horses and of the horse-human relationship were addressed within Indigenous worldview. This was possible because of Tapestry's unique mission and the fact that its founder and half its board members are American Indian. In 2007, Tapestry Institute's Horse-Human Relationship Program organized "The Voice of the Horse" conference at Iowa State University. Presenters included Northern Cheyenne trainer Philip Whiteman, Jr.; Chickasaw author Linda Hogan, who is also a former Tapestry board member and a contributor to the Smithsonian's National Museum of the American Indian volume A Song for the Horse Nation published at about that time; noted dressage rider and motivational speaker Jane Savoie; wild horse videographer Ginger Kathrens; and the late equine therapy pioneer Marge Kittredge.
I currently practice equine law and consult with equine businesses at my web-based law firm, Windhorse Legal, PLLC.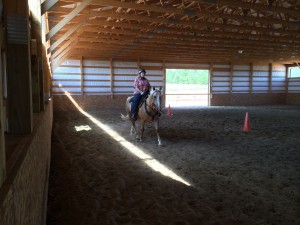 Since 2008, I have been teaching riding and training on a professional basis. I have taught a wide variety of riders on many breeds and in a number of disciplines — backyard, beginner, adult beginner, hunter/jumper, dressage, trail, gaited, bareback, Western, and Western dressage — ranging in age from young children to riders in their seventies, in both clinic and lesson formats. Along with helping fearful riders, I have specialized in helping older (over 40) riders, re-riders, and older beginner riders.
I have conducted seminars and clinics in Colorado, Wyoming, South Dakota, North Dakota and Montana.  I presented my "How To Ride Without Fear" seminar four times at the 2014 Rocky Mountain Horse Expo to packed audiences.  In the fall of 2013, I released my first DVD entitled "How to Ride Without Fear."
Contact me today to learn about how I can help you with your fear or anxiety.