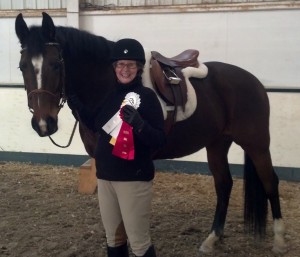 "You don't know what a tremendous inspiration you've been for those of us who love horses and for whatever reason, needed help to get back to what we love. I have never felt safer with a trainer and I have never felt so important to one. You are the only reason I was able to get back on and the only reason I found that wonderful mare. I don't know if I ever told you, but when I stumbled across your Craigslist ad, I cried. I truly thought my riding days were over. You gave them back to me, and I'll be grateful forever that I met you." – Hanora Masdin, Hunter/Jumper Rider
________________________________________________________________________________
"I definitely enjoyed the clinic. I learned more in one day from you than the previous months of riding on my own. I told my son I wish I had a week to work with you."  Terry Campbell, Pleasure Rider
________________________________________________________________________________
"I am an older, fearful horsewoman.  I am in my mid-50s and own 2 horses.  I rode frequently when I was young and have enjoyed trail rides over the years but those rides were few and far in between.  The opportunity to own a horse presented itself and I bought a young gelding.  For a year we rode the streets and trails around our home and then I became afraid to get on him.  I began riding a neighbor's smaller mare and we got along fine.  When she offered her to me, I bought her and brought her home.  We rode for a few months and then I became afraid.  It got to the point where I could hardly sit on her without panicking.  I could never explain to people what I was feeling.   A good friend sensed how I was struggling and found Jo's website on the internet.  And lucky me, she and Dawn were presenting at the Rocky Mountain Horse Expo this year (2013).  I met Jo at the Expo and made an appointment for our first lesson.   When we spoke and she watched my horse Sage and I, I realized someone finally understood the feelings of absolute terror I felt and was able to help me understand why I was so fearful and how we could work through it.    I have learned so much from Jo.  My fears are fading away.  I went from hardly being able to sit on Sage to riding her around barrels at a trot.  Instead of jumping off in a panic when something does not go right, we work through it together.  Jo has a very calming presence.  Instead of telling me what to do, she uses phrases like next time try it this way.  If I don't understand, she shows me.  Jo is very patient and never pushes me.  I couldn't live without my trauma toolbox.  I have learned so much about my horse and myself working with Jo.  And best of all, I've gone from having to ride my horse to wanting to ride my horse.  Thank you, Jo." – Lissa Ellis, Trail Rider
________________________________________________________________________________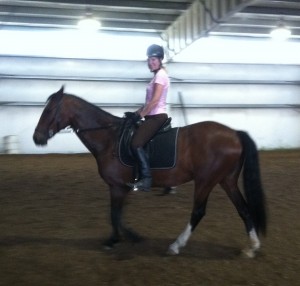 "I had the privilege of riding under Sally Swift at a Centered Riding clinic in Vermont a few years back.  At the end of each 1-hour lesson I felt that I had accomplished so much and learned so much from Sally that I wanted to keep riding for another five hours and soak up everything I could from her.  This is how I feel when I ride with Jo.  Earlier this year I was having some serious issues with my mare, Fergie, and working with Jo has regained my confidence like I never thought I would.  Yes, we started back with the basics but Jo is so calm and patient and doesn't care how often you say, 'just one more time.'  She has a way of instilling confidence in a rider such that Fergie and I were very soon riding together again as a team.  In a few short months we have progressed from walking on a lunge line to trotting with collection that I didn't think was possible.  One other thing I love about Jo is her consideration of the horse – they are not a means to an end to her they are our partners and should enjoy what they are doing just as much as the rider does.  I'm having fun riding again and find it hard to stop smiling after each lesson with Jo – I'd have a lesson with her every day if I could." – Sara Phillips, Dressage Rider and Founder of Equistencils
________________________________________________________________________________
"Jo, and her method of patient instruction for fearful, older horsewomen, literally got me 'back in the saddle' again. I had come off my horse and, being one of those older horsewomen, was realizing my mortality and dealing with confidence and fear issues. Jo helped me address that with her insight and by getting me on several of her equally patient lesson horses, which helped tremendously. Thanks so much, Jo! You're wonderful!" – Deb Jerome, Trail Rider
________________________________________________________________________________
"Jo has helped me gain the confidence I needed to re-connect with my mare. I have been able to feel more relaxed and more in control of what I want when I ride.  Jo always makes it a comfortable environment to learn in. I never feel rushed or pressured to do something I'm not comfortable with. She is always flexible with my horses attitude on some days and if my mate isn't cooperating, Jo has alternative suggestions to get the same result." – Jessica Tindall, Dressage Rider
________________________________________________________________________________
"Jo, you have such an amazing clinic. When I got on my horse, I was scared and tense. And I thought I was doing good! After working with you for just minutes, I was amazed and thrilled at how you showed me to be in the moment with my horse and how to control my fear. I am grateful! Also, with each of us riders, you seemed to hit on exactly the things we each needed to deal with and overcome and gave us the techniques to do so, even when each of us had different problems. I am amazed. Thank you!!" – Karen Fox, Trail Rider
________________________________________________________________________________
"I wanted to thank you so very much for working with Lady and me. Although she and I have a good bond, it was really helpful to break things down into little steps and to work on getting her to listen to me rather than being focused on our surroundings.  What a thrill it is to know that your horse and you are truly on the same page and working towards the same goal.  I can't tell you how much I appreciate that you found a way to help me even though I didn't know what to ask.  To have you pick up on what I needed when I didn't really know, was very special.  I can now translate what we worked on to not only Lady but to my new horse as well.  It helped my confidence and my seat.  I've worked with a number of different trainers, but it seemed that your approach was the most valuable one for me." – Marcia C. Green, retired bank executive
Clinic Comments: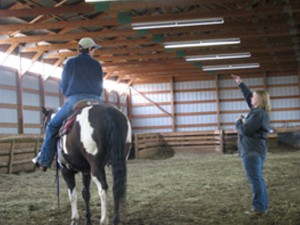 "I especially enjoyed Jo's tactful manner and her ability to instill a relaxed attitude and confidence in horse and rider."
"I learned lots of small details that can make such a difference; relaxation; confidence; seat; transitions; rein length; patience and attention to the 'small stuff.'"
"Fantastic!  Gave me much-needed tools for working with my fractious horse.  Improved my confidence a lot, too."
"Really liked seeing how Jo worked with everyone on their individual level and with their own things.  Jo doesn't have an agenda for them – she works with theirs.  I enjoyed it all."
"This clinic made me feel better about my relationship with my mare and that there is hope.  The most important thing I learned from this clinic is that my mare will make me a good friend."
"I enjoyed most the work done one on one as I am a hands-on learner.  The positive attitude of Jo's was wonderful."
Contact me now to see how I can help you with your fear!