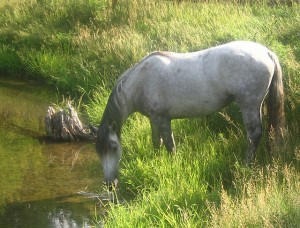 From 2004 – 2007, Dawn and I lived on a ranch in northwestern Nebraska, doing work with our nonprofit.  There was an area at the ranch that had several houses and other buildings, and the main horse pastures were in that area.  The area around the houses had several apple trees that bore many apples each year.  The ranch had high game fence around most of the pastures because a previous owner had raised elk.  The fence went from the ground up to about 10 feet or so.  During he summer of 2006, there was a catastrophic wildfire, which subsequently led to us having to leave the ranch.   We let the horses graze in some different pastures near the houses after the wildfire because there wasn't as much grass in their regular pastures.  One of the pastures was along a creek.
One fall day in 2006, Dawn and I returned from our weekly shopping trip (the nearest major shopping center was 70 miles away), and we sat in the driveway for a few minutes after arriving because we were in the middle of a horse discussion.  We sat there for about 10 minutes, on a nice early fall evening, looking out at the houses and lawn area, including the apple trees.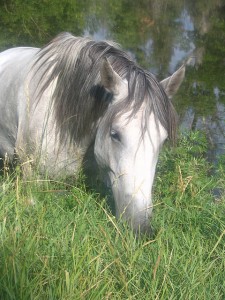 Suddenly, I realized we were seeing something that hadn't registered for awhile.  There, under an apple tree, with her head held low and standing perfectly still so as not to be noticed, was Annie, my 3-year-old Mustang mare.  She had somehow managed to get out from the pasture with it's high game fencing, perhaps by going under where the creek was flowing.  She had made her way to the house area, where she was happily eating apples until our arrival.
The most amazing thing was not her escape from the pasture, nor the fact that this formerly wild Mustang had stayed around the houses instead of going to roam on thousands of acres of open ranch land.  What was most amazing was that she knew we were sitting there talking, and she had frozen so we wouldn't see her.  She was looking straight at us, with her head ducked under an apple tree branch.  And you know what?  For awhile, it did work, and we didn't see her.  When the jig was up, we got out of the truck, and I haltered her and put her back in the pasture.  I still have an image in my mind of her looking straight at us, frozen, hoping we would be on our way while she ate apples.